---
"Being a gentleman
never goes out of fashion."
---
The King's Chair Barber Club
---
About The King's Chair Barber Club West King
---

An old-school vibe with modern luxuries. From the zing of a straight razor and vintage memorabilia – to the comfort of contemporary chairs and hot towels.
Nestled away in the center of historical Saint Augustine, Fl. lies this sleek, speak easy, vintage style barbershop.
The King's Chair maintains a very traditional aesthetic while flawlessly combining a modern twist in skill in this age old craft.
With a menu full of treats to entice the masses, clean cuts and professional shaves are not all this Barber Club has to offer.
---
Meet the West King Team
---

---
Wayland Baker
---
Master Barber
---
Also known as "Waylo the Magician."
A retired US Army Veteran and native of St. Augustine, skilled in diverse textures and styles.
Wayland has been honing his craft for over 26 years. One visit with this Master Barber and you will see why he is called "The Magician."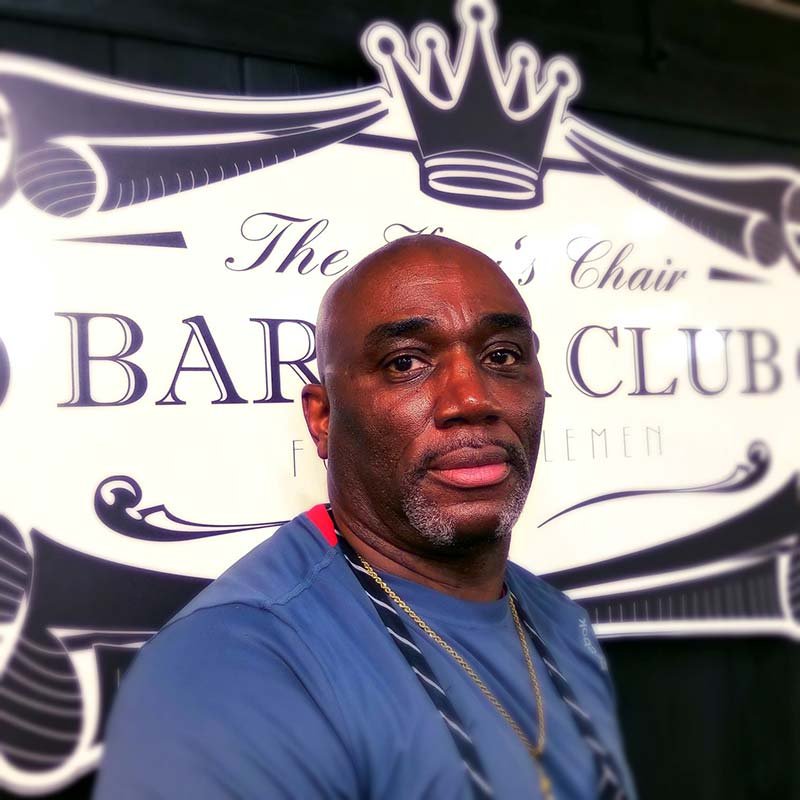 Tony Johnson
---
Master Barber
---
Tony Johnson, aside from being an award winning barber, is an Army veteran, avid fisherman, and personal fitness trainer.
A barber since 2010, Tony brings to his craft a unique blend of professional passion, unparalleled enthusiasm and talent, and good old fashioned love for making clients not only look, but feel good as well.
Nate Williams
---
Full-Time Barber
---
Nate "Da Barber" Williams has been cutting hair for more than 11 years. As a former law enforcement officer his acute attention to detail is incomparable.
Nate considers barbering a "passion, not a profession." From consultation to clean-up, Nate's foremost goal is to listen and give every client his best possible service.
PJ Zurich
---
Full-time Barber
---
For PJ, barbering is a perfect blend of the two things he is most passionate about: family and art. Hailing from Gainesville, St. Augustine, and North Carolina, PJ Zurich has been cutting hair since 1996.
If he's not at The King's Chair, you will find him either working out, getting a new tattoo, or spending time with his family.
Derrick Hannah
---
Full-time Barber
---
Two words describe barber, Derrick Hannah: Precise and professional. An experienced barber of 9 years and a transplant of Miami, Florida, Derrick believes feeling good starts with looking your best.
His exceptional service is a result of the amazing customer experience he delivers ... simply put, he delivers.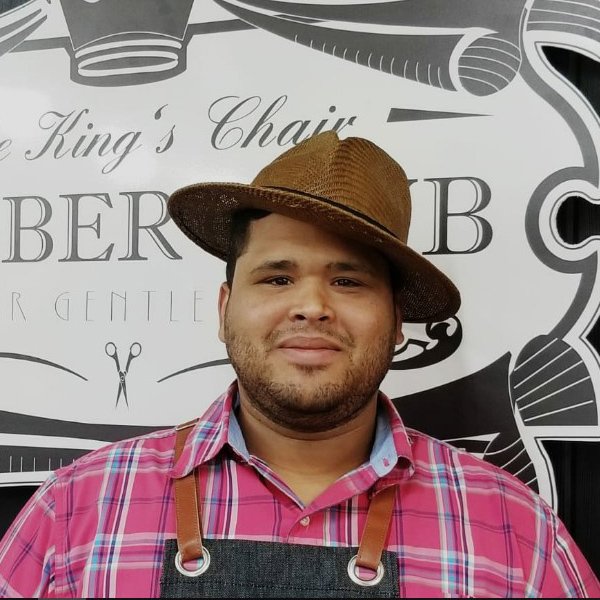 Hector Rivera
---
Master Barber
---
Philadelphia born Master Barber, Hector Rivera has a deep commitment attention to detail and client satisfaction. What makes Hector the consummate professional?
Talented and precise, Hector has been cutting hair for 21 years and prides himself in being well-rounded and versatile, making him undeniably one of the most gifted master barbers in the city.
Terrance Williams
---
Full-time Barber
---
If Ambition were personified it would surely be Terrance Williams. Committed, driven, and motivated by delivering an exceptional experience. His mission: to never stop learning how to better serve his clients.
This Ponte Vedra native brings an infectious youthful spirit, positive can-do attitude, and is already poised to be among one of the best barbers in the business.
Here at The King's Chair Barber Club we strive to provide a relaxing, satisfying and exclusive customer service. To accomplish this, we love to hear from professional and extraordinary barbers who want to be part of our team. We are looking for enthusiastic licensed professionals, who can bring their expertise and passion to our clubs. Our clients expect a legendary experience, exceptional services and a clean, friendly atmosphere. Full time positions available. Licensed and experienced barbers only.
The King's Chair Barber Club on West King Street
---
The King's Chair Barber Club
278 West King Street
Saint Augustine, Florida 32084
904.825.2824